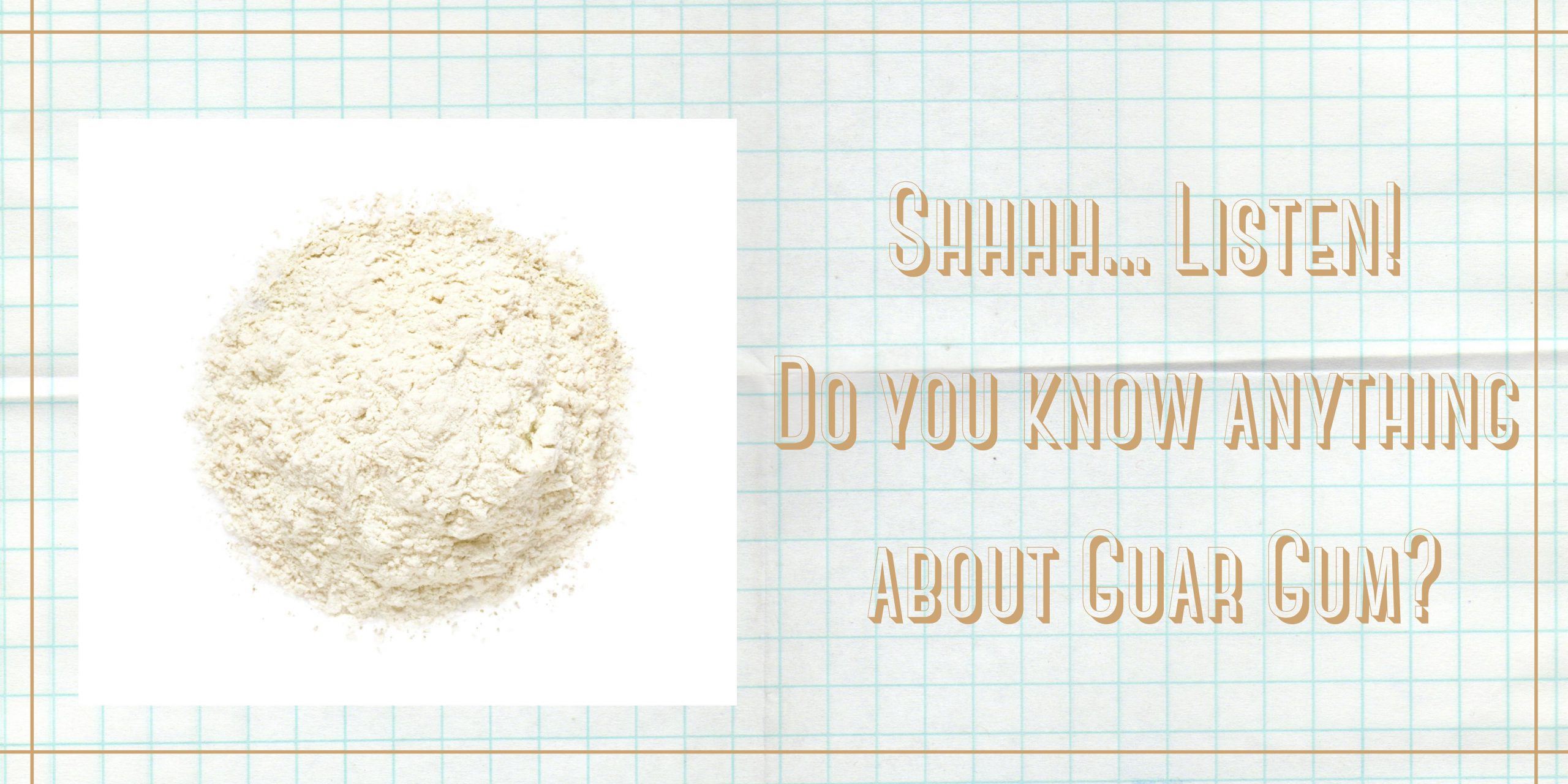 Shhhh… Listen! Do you know anything about Guar Gum?
The side effects of Guar gum, its various applications, as well as a slew of other information are covered in this post. Guar gum is a frequent thickening ingredient in food, and it's especially handy for baking without ordinary flour because it's gluten-free. Aside from food, guar gum may also be found in medicines and cosmetics. As a galactomannan polysaccharide, guar gum, or guaran, may be used to thicken and stabilise many foodstuffs as well as feed and industrial products. Dehusking, drying, milling and screening are done in accordance with the intended use of the guar. An off-white, free-flowing powder that is made from the seeds of the guar plants is the most common form of guar gum. The laxative properties of guar gum are what make it so popular. Guar gum is used as a thickening ingredient in both animal and human diets and pharmaceuticals. It is used as an ingredient to substitute wheat flour in baked products since it is gluten-free. It has been found to decrease blood glucose levels and lower serum cholesterol.
Effects of Guar gum
Guar gum may not be suitable for all people. While most individuals may safely use guar gum in small amounts, there are others who should avoid it altogether. The side effects of Guar gum may cause an allergic response in some people. It has the potential to help with constipation, and some people claim that taking guar gum by mouth helps them get rid of their constipation. It may effectively treat diarrhoea and reduce the amount of watery stools. This guar gum substance also tends to reduce the duration of diarrhoea episodes in youngsters. On the other hand, guar gum does not appear to help adults with cholera diarrhoea. In persons with Irritable Bowel Syndrome, using guar gum by mouth may help relieve stomach pain, improve bowel function, and enhance the quality of life. It is utilised in a variety of multi-phase hydraulic fracturing formulations as an emulsifier to keep oil drops from coalescing and as a stabiliser to keep particulates from resting and segregating in others.
Production of Guar gum
Guar gum, which is commonly found in processed foods, is generally safe, although it might cause moderate stomach issues in some people. The side effects of Guar gum encompass harmful consequences if consumed in large doses. Guar bean cultivation is mostly concentrated in India, Pakistan, the United States, Australia, and Africa. India is the world's largest producer of guar, producing 2.5–3 million tonnes per year, accounting for around 65 percent of global output. Rajasthan, Gujarat, and Haryana are the key producing states in India. Over the previous five years, the United States has produced 4,600 to 14,000 tonnes of guar. Guar gum is also cost-effective since it has nearly eight times the water-thickening power of other thickening agents like corn-starch, and just a little amount is required to achieve adequate viscosity. Costs are lowered since fewer resources are needed. According to certain research, allergy reactivity to guar gum manifested in a few people who worked in an industrial setting with high levels of the chemical in the air. Occupational rhinitis and asthma were prevalent adverse effects in those who were exposed to airborne particles.
Adverse properties of Guar gum
Allergies or sensitivities to soy products and guar gum should be taken into consideration when consuming guar gum. The side effects of Guar gum involve the fact that it can induce intestinal blockage and even death if consumed in large amounts. When consumed with enough fluids, guar gum is probably harmless for the majority of individuals. To avoid choking or creating an obstruction in the intestines, drinking plenty of water is critical. Increased gas production, loose stools, and diarrhoea are some of the side effects of consuming guar gum. After a few days of usage, these adverse effects tend to fade or eliminate completely. If you don't drink enough liquids while taking guar gum, you might end up with an obstruction in your oesophagus and intestines. Guar gum and its derivatives are produced in roughly 1.0 million tonnes across the world. Guar gum for non-food applications accounts for around 40% of overall demand. In a nutshell, Guar gum can be dangerous if used in high quantities and can induce undesirable side effects.