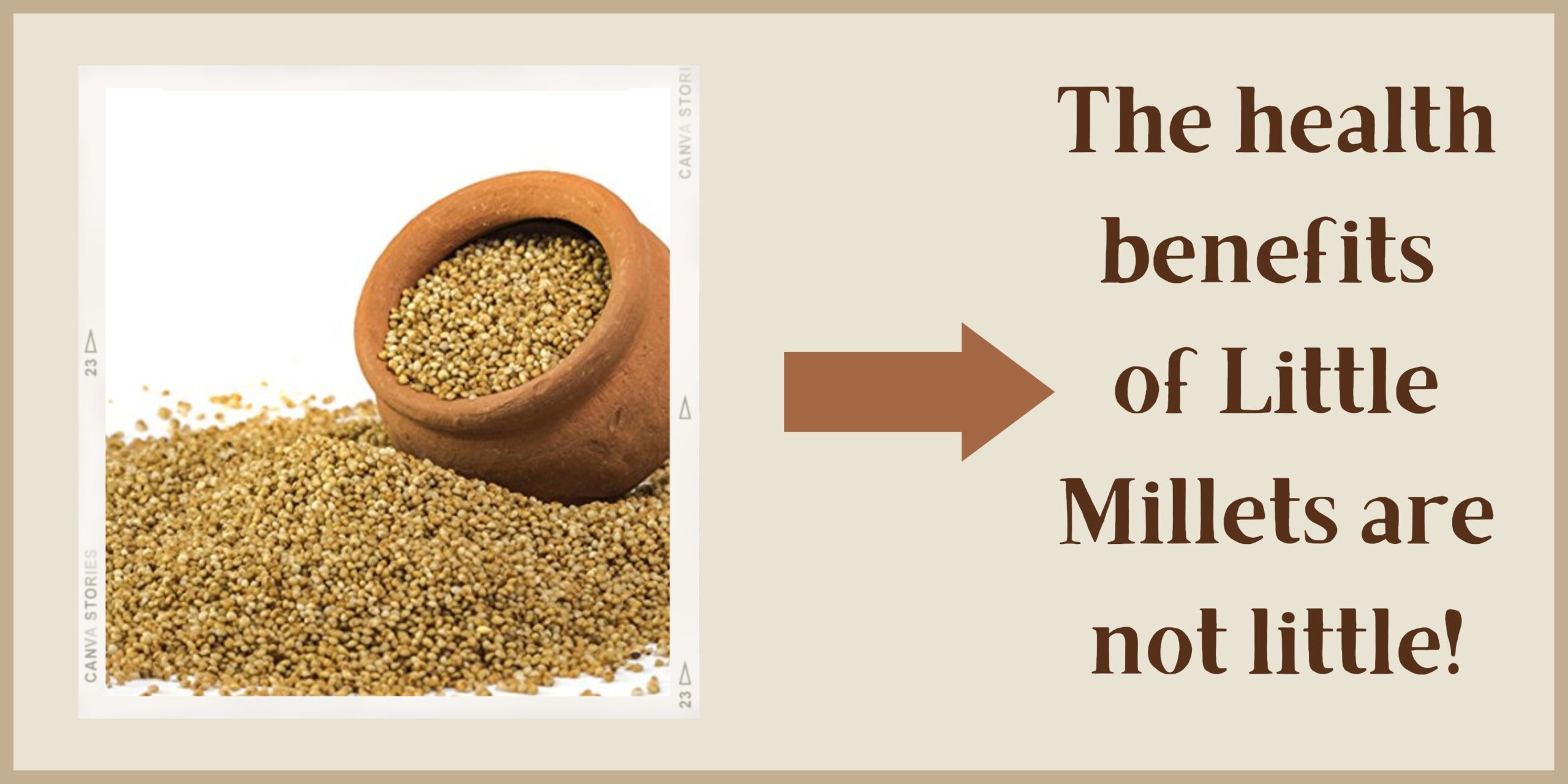 The health benefits of little millets are not little!
The advantages of little millets are entirely described in this post. In the last few years, we've learned a lot about millet. All of a sudden, these plain, gluten-free whole grains are back on our kitchen shelves.
Millets come in many forms, such as Foxtail Millet, Finger Millet, Pearl Millet, Little Millet, Kodo Millets, Proso Millets, And Barnyard Millets. All of these grains have a lot of nutrition.
And they don't taste bland anymore. Millets are now used to make fluffy bread, soft and sticky porridge, idlis, dosas, hot kitchids, and even tasty desserts.
Millets are small, coarse grains that look like round balls. They come from India and have a great nutritional profile. They are known as the "poor man's food grain" because they are cheap. It doesn't die from drought or pests and can grow in harsh climates and less fertile soil. All types of millet are in the "Poaceae" family, but their colours, shapes, and species are different.
Little millets
Little millet, which is also called "Saamai" in Tamil, is an excellent choice for health and fitness fans because it is more nutritious than rice. It contains fibre and minerals like potassium, iron, zinc, and calcium. Additionally, it has vitamin B3, which helps the body break down fat, repair damaged tissue, lower cholesterol levels, and make more energy.
One of the advantages of little millets is that they are high in antioxidants. Compared to millet flour and millet flakes, millet grains have been found to have more polyphenolic compounds and antioxidants that are healthy for you. This study has just been made public.
Little millet has a lot of tannins and flavonoids, which help protect against diseases like diabetes, cataracts, heart disease, inflammation, cancer, and stomach problems. Flavonoids also help keep you from getting older.
Every 100 g of little millet contains the following nutrition profile:
Iron : 9.3 mg
Phosphorous : 220 mg
Calcium : 17 mg
Crude fibre : 7.6 g
Energy : 341 Kcal
Fat : 4.7 g
Protein : 7.7 g
Carbohydrates : 67 g
Uses of Little millets
Phosphorus, which can be found in little millet, helps people lose weight, heal their tissues, and get energy after doing something hard. It also helps the body get rid of harmful substances.
Little millets have a lot of water-soluble fibre, which helps them make you feel full, slow down the emptying of your stomach, and help you lose weight. Because of this, people with lifestyle diseases like diabetes, obesity, and other heart conditions should eat a little bit of millet.
Helping regulate diabetes is included in the advantages of little millets. Little millet is known to have a low glycemic index and is a great dietary fibre source. Because it is harder for glucose to get into the bloodstream, the amount of sugar in the blood does not change as much. This effect is helpful for people with diabetes because they have to monitor and control how quickly their blood glucose levels rise and fall.
Health benefits of little millets
People have known for a long time that little millet can help with lung problems like asthma. "Saamai" does not contain any gluten. This is a good choice for people with celiac disease or gluten-sensitive enteropathy, as well as those who choose to eat a gluten-free diet.
People who do workouts, yoga, cardio, and other physically active things would benefit a lot from adding millet to their diet. A well-balanced diet must also include it because it has a lot of good nutrients.
Helping lower cholesterol is one of the advantages of little millets. Little millet is an excellent source of magnesium, which is good for the health of your heart. It also contains a lot of niacin, which is known to help lower cholesterol.
Studies have shown that millets can help stop the growth of cancer cells in different tissues. The phytochemicals in millets stop the growth of cancer cells in the breast, colon, and liver without hurting healthy cells.