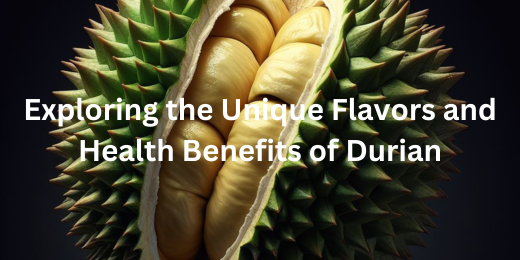 Exploring the Unique Flavors and Health Benefits of Durian
Durian, often hailed as the "King of Fruits," is a tropical sensation that has sparked both curiosity and culinary devotion. Its reputation for a pungent aroma, often described as a mix of gym socks and ripe cheese, might deter some, but those who dare to indulge find themselves captivated by its unique blend of flavors. Beneath its thorny exterior lies a creamy, custard-like flesh that's sweet with hints of almond and onion.
But it's not just about the taste; there are hidden gems within this exotic fruit. Durian is a nutritional powerhouse, boasting a rich content of vitamins, minerals, and dietary fiber. It's an excellent source of energy and supports a healthy immune system.
Intriguingly, durian is also believed to have natural antidepressant properties, thanks to its high levels of tryptophan, a precursor to serotonin, the "feel-good" hormone. This makes it more than just a tropical treat; it's a fruit with fascinating potential health benefits worth exploring.
We kindly invite you to explore this link to discover the wonders of "Pleasing Pomegranate."
Link: https://uyirorganic.farm/the-benefits-of-pomegranate/
The Distinctive Flavors of Durian
When it comes to unique and polarizing flavours, Durian reigns supreme. Often regarded as an acquired taste, this tropical fruit boasts a medley of sensations that can be both intriguing and challenging for the palate. Its custard-like flesh is sweet with underlying notes of almond and onion, creating a complex and unforgettable taste experience.
Beyond its bold flavour profile, Durian offers a surprising array of potential health benefits. This fruit is a nutritional powerhouse, packed with vitamins, minerals, and dietary fibre. It's an energy booster, aiding in maintaining vitality throughout the day. Moreover, Durian supports a robust immune system, thanks to its abundance of essential nutrients.
What's more, Durian may even have natural antidepressant properties due to its high tryptophan content, potentially promoting a sense of well-being. So, while its taste might be an adventure, the benefits of Durian make it a fruit worth exploring.
Would you like to know more about the charming custard apple? Kindly visit this link.
Link: https://uyirorganic.farm/benefits-of-custard-apples/
Nutritional Value and Health Benefits
Durian, known as the "King of Fruits," not only tantalizes taste buds but also offers a treasure trove of nutritional goodness and potential health benefits. Packed with vitamins and minerals, it's a rich source of vitamin C, potassium, and dietary fiber, supporting overall health.
One standout feature is its energy-boosting prowess. Durian provides a quick energy pick-me-up, making it an excellent choice for a natural vitality boost during the day. Furthermore, it's a notable contributor to a robust immune system, thanks to its immune-supportive nutrients.
Durian's hidden gem lies in its tryptophan content, a precursor to serotonin, the "feel-good" hormone. This suggests that enjoying Durian may positively impact mood and overall well-being, offering more than just a delicious snack.
As we peel back the layers of this exotic fruit, it's evident that the benefits of Durian extend beyond its distinctive flavour, making it a nutritious and intriguing addition to a balanced diet.
We cordially invite you to click this link to explore the nutritional richness of "Java Plum or Jamun fruit."
Link: https://uyirorganic.farm/health-benefits-of-jamun-fruit/
Culinary Uses and Recipes
While Durian's distinctive flavour might initially seem challenging, its culinary versatility offers exciting opportunities. In Southeast Asia, where it's cherished, Durian stars in both sweet and savoury dishes. From ice creams and cakes to curries and chips, its unique taste adds a surprising twist to various recipes.
One favourite is Durian Sticky Rice, a dessert where the creamy Durian pairs with sweet glutinous rice, creating a heavenly combination. For adventurous souls, Durian Pizza or Durian Smoothies showcase its adaptability in Western cuisine.
Moreover, its seeds are often roasted, akin to chestnuts, providing a crunchy, nutty delight.
Beyond its culinary allure, Durian also brings essential nutrients to these dishes, further enhancing their appeal. Exploring its culinary potential unlocks not only a world of taste but also the myriad benefits of Durian, making it a fruit that both tantalizes and nourishes.
Would you like to learn more about the wonders of juicy, sweet mosambis? Kindly visit this link.
Link: https://uyirorganic.farm/the-benefits-of-mosambi/
Cultural Significance and Myths
Durian holds a unique place in Southeast Asian culture, where it's not just a fruit but a symbol of identity and community. Often called the "King of Fruits," it's cherished and celebrated during the annual Durian festivals, bringing people together in a shared appreciation for its distinct flavour.
Beyond its culinary role, Durian is surrounded by myths and beliefs. Some view it as an aphrodisiac, while others consider it a heaty or cooling food, impacting the body's balance. These beliefs have been passed down through generations, adding to the fruit's allure.
While myths may vary, one undeniable aspect is Durian's importance in regional cuisine. It's a testament to how food can transcend its taste, becoming a cultural cornerstone that bridges communities and generations.
As we explore the cultural significance and myths surrounding Durian, we gain a deeper understanding of its place in the hearts and traditions of Southeast Asians, highlighting the multifaceted benefits of Durian that extend far beyond its nutritional value.
Conclusion: Embracing Durian's Delights and Benefits
In conclusion, Durian stands as a truly unique and captivating fruit, offering a blend of flavours and a range of potential health benefits that make it a remarkable addition to the world of nutrition. While its pungent aroma and distinctive taste may challenge some, its culinary versatility and cultural significance in Southeast Asia cannot be overlooked. Durian's richness in vitamins, minerals, and dietary fibre, along with its potential mood-enhancing properties, make it more than just a tropical delicacy – it's a fruit with a story to tell.
As we delve into the diverse facets of Durian, from its flavourful culinary uses to its cultural significance and myths, we gain a deeper appreciation for its place in the world. Beyond its thorny exterior lies a treasure trove of delights, offering both a unique culinary adventure and a journey through the potential benefits of Durian.